Crafting an engaging username for Call of Duty Mobile can be an exciting challenge for some individuals.
That's precisely why we developed the COD Name Generator – a tool designed to effortlessly assist you in creating a stylish and unique name enriched with symbols.
COD Name Generator v1
Random
Comment below if you need help or the tool doesn't work 🙂
How to use this tool
When you need a username quickly generated with random symbols, the ideal option is the Call of Duty name generator. All you need is a basic name to be styled. To use this tool, follow the instructions below:
In the "Enter your name here" field, type whatever name comes to your mind.
Then press the generate button.
Click copy to use the generated name if you like it. Otherwise, you can go on and generate as many as you want.
Funny COD Names
Here are some Funny COD Names:
ChuckleChampion
HappyHeadshot
SnickerSniper
GrinGunner
HumorHunter
CheerfulCharger
WhoopeeWarrior
JovialJester
AmusedAssassin
HilariousHero
MirthMarksman
LOLrifle
GuffawGrenade
SnortSniper
WittyWarden
JoyBomb
JollyGrenadier
GigglyGunslinger
LaughingLancer
HahaHitman
ChuckleCommando
GuffawGamer
GrinGrenadier
HappyHavoc
WhoopeeWarlock
GleefulGrenade
ChucklingCharger
HilarityHeroine
MerryMarksman
JovialJuggler
AmusedAvenger
GrinGambit
LOLRocket
CheerfulChucker
WhoopeeWarden
JollyGamer
GuffawGuard
HappyHitwoman
GrinGuerilla
Best Names for Call of Duty
Here are some Best Names for Call of Duty:
turtle neck man
alpha_helix
DeathSquad
TrojanHorse
art_of_war
Maggot Meals
Martian
Gun Lords
Souls of Salem
AK47
Gangs of COD
Loser Hunters
Major Russells
Void
SamSlammed
Death Raider
Selection Pressure
AWMLover
FentoFantom
Henderson
wind breaker
TomHanks
Demons and giants
Unique Legacy
Chaos Builder
Pandemic
Immortal
360 Degree
Mystic
Seventh Circle
Xtreme
ether_smoke
Noobies Choosies
Kung Fu
Kings Of Chaos
Rise of the Fallen
Agent47
King-Pins
Loose Characters
Lester
Minefields
Gladstains
Badass COD Names
Here are some badass Names for COD:
2cute2quit
Championofseas
Gutsy Studs
Destiny
DashMetalRat
BOT996
Fear Butchers
Electric Tank
Optimal Aces
DeadHunter
psycho_vipers
Frantic Saboteur
Radicals
spacebound
Serpent
Pubgian
MaximusTitan
LoneTrooper
C-19 Parasites
Covert Destroyer
Stromtrooper99
Frenzy Shooters
Ressurect_me
no_one
DarkClown
joe_hoe
bounty_seekers
Chickenlover
riseandfire
Tilted Stabbers
Cyprus
Last_laugh
Dark Spirits
Vampiric Ghosts
Dirty Grenadier
damselindistress
SwagKing
OG Names
Here are some OG Names:
Honour Rise
Giggle Fluff
Our Fathers War
Killer Romeos
Old School
Zombie Zone
Predators Unleashed
Holly Secret
Headshots Only
White Pigeon
Love to Kill
Vampiric Ghosts
Never Genesis
All Kill
Bigshots of Game
Sweet Kills
Tiger On Mission
Order of Disorder
Head Bangers
Walking Pegasus
Bad Boys
Cool Sweaty Names
Here are some Sweaty Names:
DeadShot
CoolShooter
NeÕSh0ot3r
Curious Killers
FrÕstyOdyssey
Flame Spiders
Gold Toads
Strangelove
IAmGosuNight
SkyDecay
Grizzly Warthogs
ÐëÅdHellion
RageFrost
GosuBadR3f1ux
Masters of Mutation
CaptainJackSparrow
MistDragoon
Kira
Best COD Names for Boys
Here are some Best COD Names for Boys:
The Chargers
Wazir Killers
Brown Cobras
Electric Moths
Grim Leaders
White Bats
Blood Bashers
The Nameless
Bounty Seeker
Royal Spider
Onyx Skeletons
Flame Wolves
zure Bulls
Call of Demons
Spanking Legends
Royal Bears
Killer G69
Thunder Moths
Psycho Vipers
Ebony Trolls
BoiledBloodHunter
Cute Names for Girls
Here are some Cute Names for Girls:
FluffyFury
CheeryChaos
CupcakeConqueror
LaughingLethal
SassySharpshooter
WittyWarrior
ChuckleChampion
HappyHavoc
SweetShock
JoyfulJolt
LivelyLaser
DelightfulDestroyer
WhimsyWarrior
QuirkyQuake
DazzlingDiva
PurrPioneer
LightheartedLethal
QuirkyQuiver
GleefulGunner
WhimsicalWarrior
ChuckleCharm
CheeryCharger
SweetShotgun
DarlingDart
PlayfulPewPew
SlickSniperette
PurringPewPew
FrolicFirearm
CutenessCommando
QuirkyQuickscope
KawaiiKillshot
PockyPioneer
VelvetVanguard
DreamyDuelist
CherryCheerleader
WhimsyWarden
MochiMaverick
AnimeAimstar
How to Change Name in COD Mobile
To change your username in Call of Duty, you need to have a 'Rename Card' in your inventory. Heard for the first time? A rename card enables you to change your username for a nominal cost. New accounts have a rename card in their inventory by default. But, if you have used it before, you can easily buy one from the in-game store.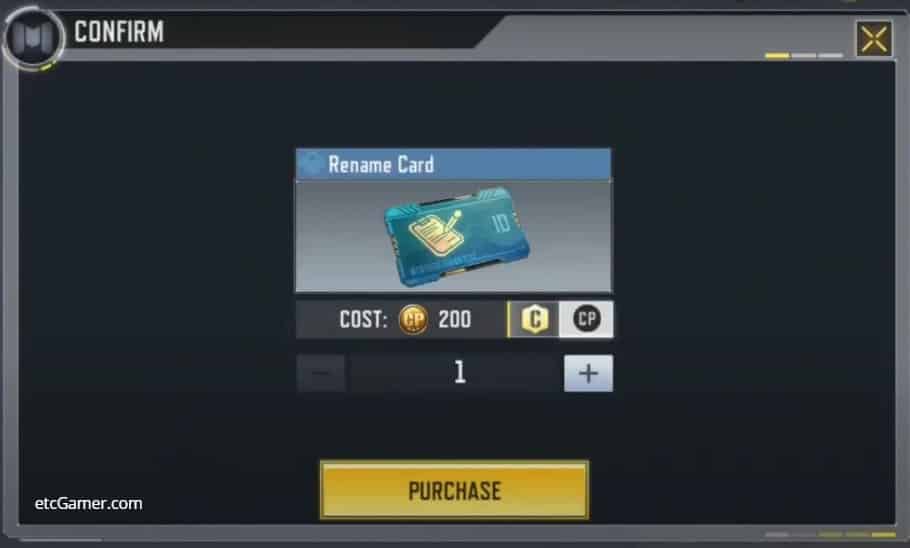 In-game store has a separate section for cards, that's where you'll find a rename card. You'll need 200 CP or 1000 Credits to purchase a rename card. To acquire CP, you can make a purchase using real money. We recommend purchasing with the Credits that are easy to gain.
After you purchase a rename card, follow the steps below to change your username:
From the game's main screen, tap and open the loadout, then tap on inventory.
A screen with your inventory will appear. Tap 'Use' after selecting 'Rename Card.'
A pop-up titled "Change Name" will appear. In the dialogue box, type your new username and hit the change button. It will change your username.
It is important to keep in mind that players are only allowed to change their usernames once in three days.
How to Change name without Rename card
If you don't have enough CP or Credits in your pocket, there is a trick for you. First, you need to have a Facebook account so you can save your game progress.
Follow the steps listed below to change your username for free and continue playing.
Open Call of Duty Mobile on your phone or tablet.
Log in to your Facebook account as soon as the game starts. It will save all of your information and progress in this manner.
Please Close the Mobile app and uninstall it now. On iOS, tap and hold the app icon until a 'X' appears in the corner. Tap the 'X' icon and confirm the action. On Android, go to Settings > Applications > Call of Duty Mobile > Uninstall.
Reinstall the game from the App Store/Play Store after uninstalling it.
If you use the same Facebook account, you'll be prompted to create a new username
Conclusion
CODM is one of the biggest competitors in the battle royale genre. With its pleasing gameplay and graphics, it is attracting more and more players every day. The game has more than a hundred million downloads on the Google Play Store, and this huge number reveals the importance it has gained in no time.
Comment your favorite names below and also give your feedback on the cod name generator.