If you're a PUBG lover, then you know that the unique outfits, weapons, and gun skins aren't enough for you to make an in-game impression. If you want to stand out among those millions of PUBG Mobile active users, you may need a unique and catchy name.
We have compiled a long list of best nicknames for PUBG for both boys and girls, so you won't do the mistake of choosing a random name and waste a rename card. All you need to do is choose a nickname that best fits your character and change your name using a rename card.
Best Nicknames for Boys in PUBG
As the competition among the players is getting stronger, boys are spending a big part of their day on video games, playing with squads, enhancing their playing skills to compete against others. Along with the gameplay, they also try to improve their character's appearance, so they look impressive and unique among others.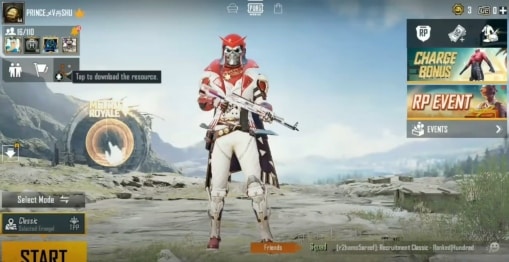 Nicknames are one of the best ways to leave an impression on your enemies as you finish them. You can find a lot of appealing names for your male character below.
ObsCene SniPer
ғїԍђтєя
Inimical Thugs
Dark Knight
Annihilator
Silen7 Pwner
Thunderbeast
S7aBber
Left Divide
Badßoy
Grave Digger
Mr.hulk
Kɩŋʛ
Hʋŋtɘʀ
ᎷᏒ ፈᎧᎧᏝ
KiLLst4r
Night Magnet
Plain Privileg
Agent Hercules
Jack The Ripper
кιℓℓεя
кнιℓα∂ι
Мя-Їйтєяйдтїойдl
PUBGian
4ceist
Crazed Camp3r
Pro Headshot
ßaɗsʜàʜ
TermInat0r
H4vOck
Guncap Slingbad
BʌdTämêêz
Warrlng Ninja
Sh4rpSHoOtEr
Hungry Admirals
Killer Romeo
Fuzzy Pack
MʋŋÐʌ
Covert S4boteur
PʌŋgɘBʌʑ
Insan3 TAnk
Rude ExPert
Brute Fact
Bad soldier
Optimal Aces
tєг๓เภคt๏г
Ʌlcoholıc
LøneWølf
SAboteur
HidDen AsS45sin
Organic Punks
Hog Butcher
Ball Blaster
Spr4yer
Eat Bullets
Headshooter
Nʌlʌyʌk
Hateful WreCker
Dɘvɩɭ
Inimical Thugs
†εrα ßααp
Shoot 2 Kill
Str4Ightsh0o7Er
Metal Star
Alpha Returns
Dancing Madman
Dead Shot
Complex Slayers
Faulty Devils
Swift SpraYer
TactIc4l Camper
Vıllʌıŋ
AgeNt
Happy Killing
Annoyed Power
Hungry Admirals
Həʌɽtləss
Evillious Energy
Junkyard Dog
Tonight Gamer
Uŋstoppaʙʟe
Duke of Doom
Highlander Monk
Gru6by GunNer
Mʌstʌŋʌ
Fuzzy Pack
Wreckr
W4rLock
ŘỖββẸŘ
Ɱʌstɘʀ
Veteran of Death
Bloss Flop
ι∂ισт
Terrific Tornado
Fear Butchers
Knuckle Duster
Pixie Soldier
Sʜɘʜʑʌɗʌ
H1dden Pwner
M4rtineX
Agent 47
Noxious KIller
Kill Spree
Green Ghost
Dead Deal
Cool Shooter
Accurate Arrow
Walking Pegasus
Supərstʌr
Warring A5sAssin
Tango Boss
ChIckeN Spr4Yer
Optimal Aces
S4murAie
RAmpANt KillEr
Odd Hooligans
FlamIng SprayEr
Overkill
Ѕмөкэя
Frantic SAboTEur
Best Bluster
Brash Thugs
Fr4gGEr
Kʌmııŋʌ
MercEn4ry
PUBJESUS
Kill Switch
DiRty Agent
Best Nicknames for Girls in PUBG
When it comes to choosing a nickname for a girl character, you need to be careful and keep the gender in mind. Your name must be suitable for girls and shouldn't be confused with a boy nickname. It'll help you prove your girly power to your enemies and show them your legendary playing skills.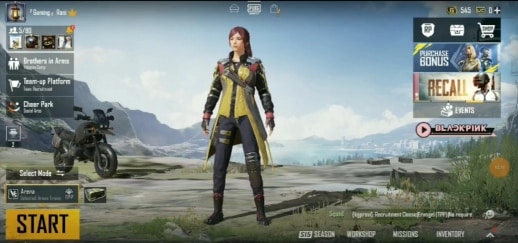 Have a look at the beautiful and stylish names for your female character below, and spread a terror among the lobby as you step in the game!
Crazy Cinderella
Princess of PUBG
Tiny Hunter
N3Bula
PubgPie
Wee One
Marshmallow Treat
S4Turn Extr3me
ᑕute Killer
Sassy Muffin
QueeN B3ryL
Blade Woman
Queen Bee
Dexterous Queen
M4 Muffin
Fer4L F1lly
Pink Nightmare
GunL4dy
Video Game Heroine
LadyBug
Acid Queen
H4staQueen
Gun Digger
DarkSider
BlooDLusT
GunDigGer
K1ller Wom4n
Dəəwāŋi
QueenBee
Microwave Chardonnay
Auspicious Olivia
Romance Princess
Troubled Chick
Aŋgəl
Çûtê ßâçhî
ʚ'Ŋuaghty-ʚ
Koi Diva
SaiLor MoOn
Freeze Queen
Treasure Devil
Lady Fantastic
Peanut Butter Woman
Opulent Gamer
Darkside Hooker
F1xXer GirL
Mafia Princess
Wildcat Talent
Swɘɘt Poɩsoŋ
MoonStone
MissF1x1t
Leading Light
Tiger Kitty
PubgP1e
Girls of Neptune
ΞυηκηοωηΞ
Sʌŋsĸʌʀɩ ßâçhî
Kʌmııŋi Lдԁкї
CʜocʞʟʌTy Gııʀʟ
ρяιηcεѕѕ
D4hLia
IɱCʋtɘ
Lady Killer
Ench4ntress
Jʌŋʋ
Princess Pickney
F1ercy Fox
Battle Mistress
Titanium Ladybug
Gamer Bean
L4dy A1mBot
Qʋɘɘŋ Oʆ Boɭɗŋɘss
Lady M4chette
Giggle Fluff
Magic Peach
Dʌʀɭɩŋʛ
Pr1ncess PyThOn
Her M4jesty
Miss Fix It
Chørıı
IsĦáq'Zẳẳdı
Saturn Extreme
Spicy Senorita
SeLene
Panda Heart
LaDy D3athStr1ke
Cool Whip
CrusHer
Sleek Assassin
ρąяɨ
R4Ge QueeN
Sɘxƴ Cʜoʀɩ
D4rk D3ad3Ye
Candy Cough
zคคlเ๓ gเгl
Głøšśŷ Þríŋćęss
ßəʌʋtɣ Qʋɘɘŋ
Quəən
Tragic Girl
Eye Candy Kitten
Дттїтцԁү Ряїисєss
K1ller GirL
Claudia Clouds
Ancient Ambrosia
Curious Caroline
Feral Filly
DragOn Pr1ncess
Soŋʌ
ßãbÿ Ðøll
BuckWiLD
Ħaseeŋa
Sn1p3Her
Girl Royale
Luna Star
Gl4diaTrix
MoonKn1ght
Bдԁ Gɩʀɭ
Or4gOn
TeKilla Sunrise
Anonymous Girl
Broken Paws
Sk4rLet OverK1ll
Canary Apple Red
Little Drunk Girl
EmPress
Sleek 4ssasiN
Рэяғэст ᑕᕼøᖇıı
Bl4ckW1dow
Dangerous Damsel
Woodland Beauty
Random Stylish Nicknames
8bit
༒☬sunny☬༒
υηκηοωη
SWΛG
Hydra
Coɱpɭɘx
☁✨爱Sηιρєz爱✨☁
Deton4tOr
Annihilator
Mafia
🅷🅸🆃🅻🅴🆁🅺🅸🅻🅻🅴🆁
🐲༺ṨήiͥpeͣrͫJⱥmes☘༻ ✨︻デ═一
R@1N
𝖙𝖍𝖊𝖉𝖆𝖗𝖐𝖝𝖍𝖔𝖗𝖓𝖊𝖙
T1tan
𝓣𝓻𝓸𝓳𝓪𝓷
R00K1E
Δ GammaΔ
Z3US
~ VENOM ~
༺₦Ї₦ℑ₳༻
⚔️BadAss⚔️
𝕿𝖍𝖆𝖓𝖔𝖘'𝖘𝕮𝖍𝖎𝖑𝖉
◥ᖫℭяα𝕫Ÿ༒₭ɨllǝ℞ᖭ◤
Troll
Рэяғэст
KNIGHT
️☠️Շѧмѯ_️θѵэя☠️
SΞΝSΛ1D
Tƴʀʌŋŋƴ
Headhunter
Ov3rk1ll
Badßoy
Bʀʌvo
༒☬〖ℳℜ〗 ℜoͥᴍaͣnͫ73☬༒
LøneWølf
🐲Vΐ℘er
Hunt3r
TR1GGER
ICE
ĐàRkÇlöwn•
STRANGER
Shroud
ཧᜰ꙰ꦿ➢₦Ї₦ℑ₳ ༒
•Who Am I•
Dɘvɩɭ
ᴅᴀɢɢᴇʀ
BŁΛCKŠTØŔM
BŁΛCKŠTØŔM
Rʌvɘŋ
ঔৣ☬✞𝓓𝖔𝖓✞☬ঔৣ
ĐàŔkツCÀMPER
▄︻┻═┳一
🆁🅰🅽🅳🅷🅰🆆🅰
sʜot
Xx-DΞΛDSH0T-xX
J҉O҉K҉E҉R҉
Fury
⚔️B O S S ⚔️
SOUL々MORTAL
R3kt
SkULL
ĐàŔk Š0ūŁ
๕ۣۜZΞUS™
HyPer
Hydra. | dynamo
ExWhyZed
bOT
P么1N
F1RE
✧D@RK✧⎠⎠乡✧BL@DE✧⎠⎠
vɩp3ʀ
•D3MON•
amm0
DΛMΛGE
★彡[ᴅᴇᴀᴅ ᴋɪʟʟᴇʀ]彡★
Dɘʌɗpooɭ
Critical
Iήsͥⱥnͣeͫ°
★Alpha★♆ Pөѕєїԁөи ♆
≪🆂🆄🆁🆅🅸🆅🅾🆁≫
༒☬Bad☬Boy☬༒
Didn't like the names in the above lists? No problem, We also have a custom tool made for you PUBG players. You only need to enter your name in the name box and click on generate button. Our tool will auto-generate 100s of stylish names with stylish PUBG symbols for you.
Click on the link below to use Pubg Name Generator
How to Change Name in PUBG Mobile
Changing your nickname or IGN in PUBG isn't a big deal. You can easily change it using a name card. But if you're a newbie to the game, try to choose a sensible and attractive nickname rather than making a random choice. Once you've opted for a name, you won't be able to change it soon until you get a rename card. So choose a nickname for which you won't regret later.
Now that you've made a wrong choice, the question is "how would you get a rename card?" Well, if you're lucky enough, they're available as rewards. You can get them as you level up or complete some achievements. Some rename cards were also given away for free when the feature was first introduced. You should go through your inventory, maybe you will find one floating there.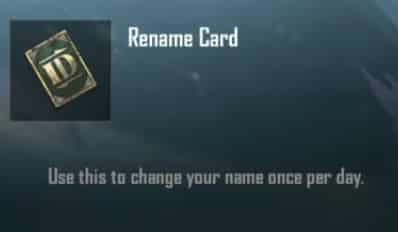 If you've no luck, then you'll have to spend 180 UC to buy a single rename card from the store. Since UCs are bought for real money, it may be pretty costly for you. But, if you're not willing to spend some real money on a video game, you can save UCs that you earn by moving up the Royale Pass ranks in each season.
If you've finally made a selection of a cool and unique nickname, then follow the below steps to apply it and attract your enemies.
Open the video game on your PC, console, or smartphone.
Tap on the Inventory tab on the bottom left of your screen beside the Mission tab.
Tap on the Crate.
Tap the Rename card and tap on use.
Enter the nickname and apply.
Conclusion
PUBG Mobile is dominating everybody's attention as the number 1 battle royale game in the world right now. With every release and update dropped, it has always tried to improve the gaming experience for its players and has been successful too.
The game has gathered a large number of active players. The craze isn't seemed to be ending anytime soon. However, the player count is still growing rapidly. With such a large number of players, you've to work on differentiating your character from others. So, other than just focusing on your equipment, having a unique and cool name will help you stand out in the lobby.