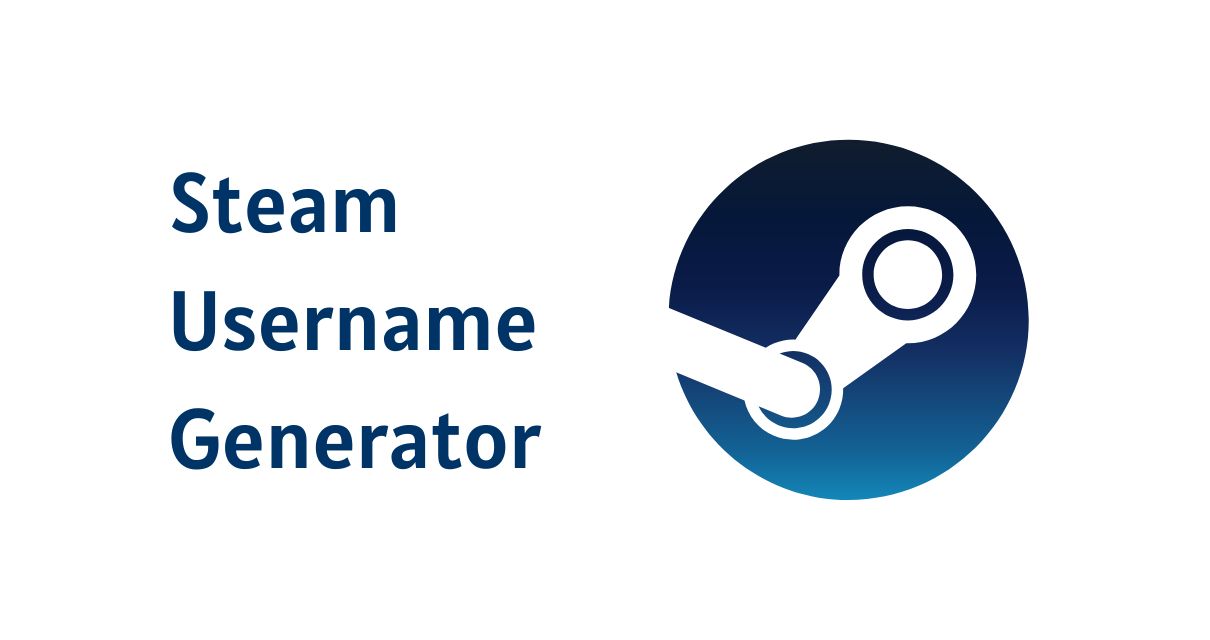 Struggling to find a unique Steam username that truly reflects your gaming prowess? Wondering if there's a way to make a name that stands out from the crowd?
Look no further than our state-of-the-art Steam Username Generator – the game-changer you've been waiting for. Are you prepared to unlock a world of memorable and attention-grabbing usernames?
How to use Steam Username Generator?
Finding a cool Steam username has never been easier! Just follow these simple steps:
1. Type your name in the box that says "Enter your name here…"
2. Wait a few seconds, and voilà! You'll see a bunch of awesome and unique usernames generated just for you.
3. If you like any of the names, click on it to copy it.
4. Still not satisfied? No problem! Click the "Load more names" button at the end, and you'll get even more fantastic usernames to choose from.
So, what are you waiting for? Give our Steam Username Generator a try and find the perfect username for your gaming adventures! It's quick, fun, and totally hassle-free.
Also, check out our collection of 501+ Funny Steam Names
How to change your username on Steam?
Here are the steps to change your username on Steam:
1. Open the Steam Client: Launch the Steam application on your computer. If you're not already logged in, enter your login credentials to access your Steam account.
2. Go to "Profile": Once you're logged in, click on your username in the top right corner of the Steam client. A drop-down menu will appear; select "Profile" from the list.
3. Click on "Edit Profile": On your profile page, you'll see an "Edit Profile" button; click on it to access the profile settings.
4. Change Your Username: In the profile settings, you'll find a field displaying your current username. Click on the box and type in the new username you'd like to use. Please note that your new username must adhere to Steam's guidelines and cannot be already taken by another user.
5. Confirm and Save Changes: After entering your desired username, double-check for any errors or typos. Once you are satisfied with the new username, click the "Save Changes" button at the bottom of the page.
6. Verification Code (If Necessary): Steam may ask you to enter a verification code sent to your email address or phone number to confirm the username change for security purposes. If prompted, simply follow the instructions and enter the code when asked.
7. Username Changed: Congratulations! Your Steam username is now changed. Your new username will be visible on your profile, in games, and in the Steam community.
Remember, changing your username is not something you can do frequently, so choose a username you'll be happy with for the long term. Enjoy your new identity and happy gaming!
Conclusion
In conclusion, our Steam Username Generator is the ultimate solution to breaking free from the confines of generic and uninspired gaming names.
With just a few simple steps, you can discover a plethora of unique and catchy usernames tailored to your liking, adding a touch of individuality to your gaming persona. Embrace the power of creativity and stand out in the gaming community with a name that truly represents you.
But that's not all! We have more exciting tools to offer that will further enhance your online presence. Don't miss out on the chance to explore our Facebook Name Generator, designed to help you create eye-catching and engaging usernames for your social media profile.
Want to leave a lasting impression in the Reddit community? Our Reddit Username Generator is here to provide you with memorable and distinctive usernames that will make you memorable among fellow Redditors.
And for those aspiring to conquer the world of video content, our YouTube Username Generator awaits you, offering a range of catchy and brandable names that will captivate your audience.
So, what are you waiting for? Unleash your creativity and explore our collection of naming tools. Stand out, be remembered, and make a lasting impact across various online platforms.
Embrace the power of unique usernames and take your online presence to the next level. Give our Facebook Name Generator, Reddit Name Generator, and YouTube Name Generator a try today! Your journey toward a more captivating online identity begins here. Happy generating!