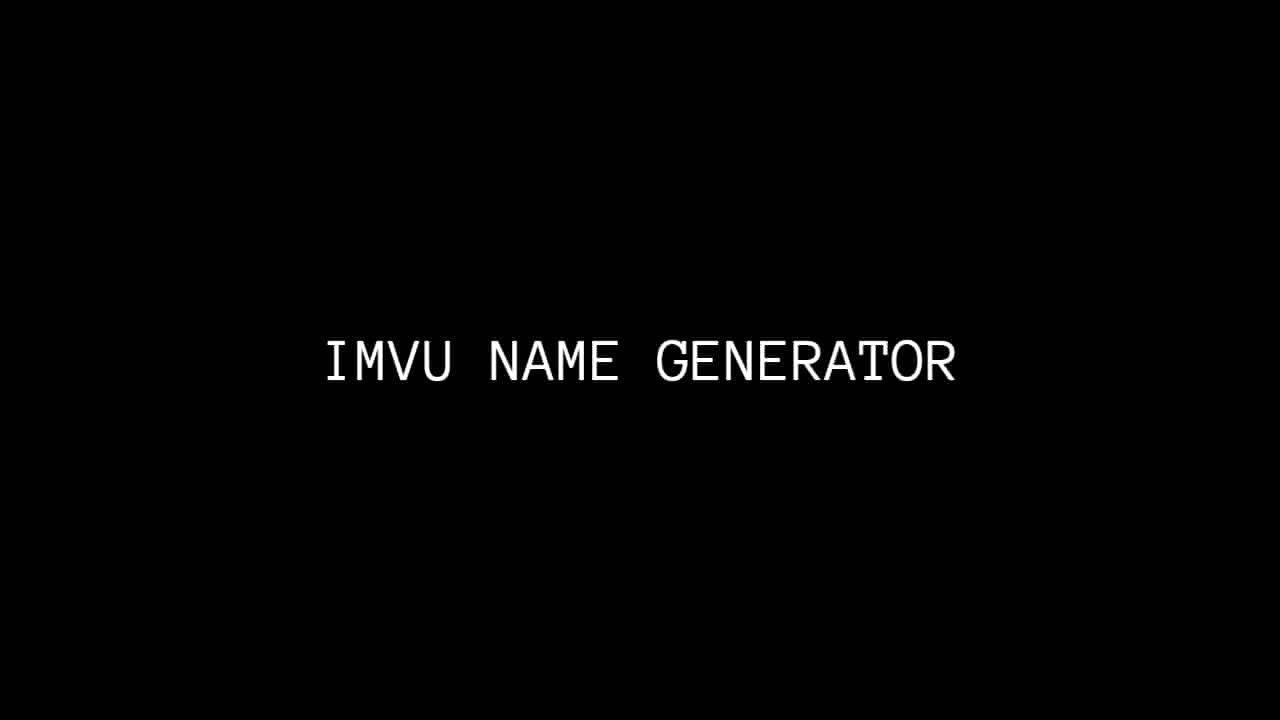 IMVU is all about using your 3D avatar to connect with people all around the world. And sure, your avatar's best appearance matters to attract fellow players. But have you paid attention to your IMVU username yet?
What if you could make a stronger impression with a stylish IMVU username?
Wearing trendy outfits but roaming around with a boring username won't help.
Instead, try out this amazing IMVU name generator to style up your IMVU nickname to draw all the attention to your Avatar.
How to Generate Stylish Name for IMVU?
You don't have to roll up your sleeves for this one. Because using the IMVU Name Generator is just as easy as blinking an eye.
With just three easy steps, you can get your avatar an appealing IMVU username. 
However, you'll first need a nickname that you want to stylize with this generator. So think of one beforehand. You can use your real name plus additional words, or you can use a term that suits you the best.
Once you've decided it, follow the steps below to enhance it.
First, enter the nickname that you want to stylize in the 'Enter Your Name Here' field.

Then, click the 'Generate' button to start the process. This will change your name's fonts and add some fancy characters to make it appear stylish.

Once done, you'll see the generated stylish name in the uppermost field. If you like it, then go ahead and click the 'Copy' button to copy it to the clipboard and use it. Otherwise, you can generate another one with the 'Try Again' button.
How to Change Name in IMVU?
Now that you finally have your desired stylish IMVU username, what's left to wait for? Let's get in the game and catch all the attention.
You can change your username through both desktop and Mobile App, so follow the steps depending on what you're using from below.
For Desktop:
Through your browser, log on to the IMVU website and sign in to your account.

Then, open the 'Account' page.

Now, from the drop-down menu of 'Account Tools', click on 'Change Avatar Name'.

This will open a new window that requires you to enter your new IMVU username and current IMVU password.

Once you've entered both, click 'Submit'. And then confirm your action.
For Mobile App:
Head towards the IMVU app and log in to your account.

From the top-right corner, tap your profile picture.

Now, tap the 'Edit' button in the top-right corner.

This will open a window. Now enter your new IMVU username and click the 'Save' button to save the changes. You're all done!
Conclusion
Being a cool 3D gaming platform, IMVU's player count is increasing rapidly. So in a virtual world like this, how would you make an impression and stand out among the millions of others?
This is where a stylish and appealing username comes in handy.
Go on and generate one with the IMVU Name generator. Or just pick one out from hundreds of cool IMVU nickname ideas above and copy and paste it.
Frequently Asked Questions (FAQs)
How to check if IMVU names are taken? 
Since IMVU lacks the option to see if your new username is available or not, you can't do this officially through IMVU. But you can use IMVU-E Name Checker to check for availability.
Simply put the name you want to check in the 'Mass Input Method' field and click 'Process to Names'. It will show the result in the box below.
---
How to get a 3 letter name on IMVU?
Three letter IMVU usernames go as premium. This means that you'll have to pay a cost to have a three-letter name. A three-letter name costs 300,000 Credits.
Similarly, a two-letter name costs 500,000 Credits. For more than a three-letter premium name, you'll need to have 150,000 Credits.