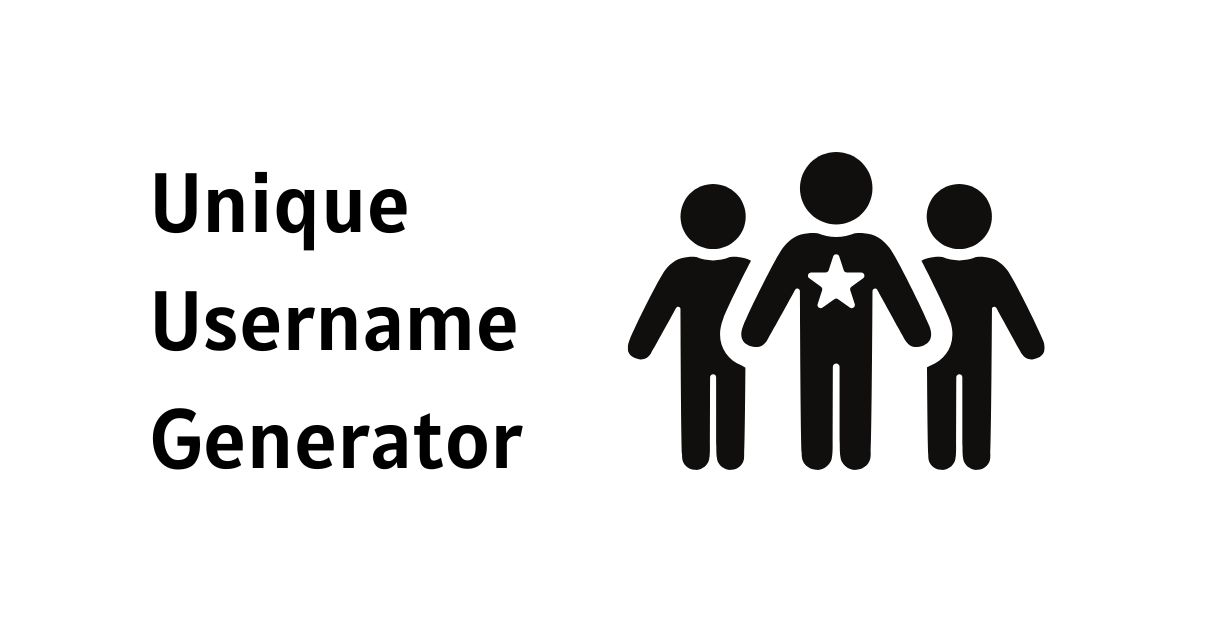 Are you tired of compromising on your username because all the good ones seem to be taken? Wondering if there's a secret formula to create a catchy and memorable online identity?
Unlock the door to endless username possibilities with our innovative generator. How does it feel to wield the power of uniqueness and charm in your hands?
How to use Unique Username Generator?
Welcome to our easy-to-use Unique Name Generator:
Type your name in the box labeled "Enter your name here."
Wait a few seconds, and you'll see a bunch of us,uk unique male and female usernames.
When you find a name you like, click on it, and it will be copied for you to use.
Want more choices? Click the "Load more names" button to see more options.
That's it! With our user-friendly Unique Name Generator, you'll have lots of usernames to choose from in no time. Give it a try and find the perfect online identity that reflects the real you!
When to use a Unique Username Generator?
You can use a unique name generator whenever you need a fresh and distinct name for various purposes. Here are some situations when using a unique name generator can be helpful:
1. Online Profiles: When creating a new social media account, gaming handle, or any online profile, a unique name generator can provide you with creative and original usernames that stand out from the crowd.
2. Blogging or Website: If you're starting a blog or website and want a catchy and memorable domain name, a name generator can offer you various options to choose from.
3. Fictional Characters: Authors and storytellers often use name generators to find unique names for their fictional characters in books, movies, or games.
4. Creative Projects: Whether it's a new art project, a YouTube channel, or a podcast, a unique name generator can help you find a name that aligns perfectly with your creative vision.
5. Online Forums or Communities: When joining an online forum or community, having a unique username can help you distinguish yourself and make an impression among other members.
6. Business or Brand Names: Entrepreneurs and startups can use name generators to brainstorm unique and memorable names for their businesses or brands.
7. Passwords or User IDs: For security reasons, using a unique name generator can help you generate strong and hard-to-guess passwords or user IDs.
Remember, a unique name can leave a lasting impact and help you express your individuality, so don't hesitate to explore the possibilities with a name generator whenever you need it!
Conclusion
In conclusion, our Unique Name Generator is your ultimate solution for discovering captivating and one-of-a-kind usernames that truly represent your identity. Embrace the ease and simplicity of this tool, allowing you to find the perfect online moniker in just a few clicks.
Whether you're diving into the digital world, creating artistic projects, or launching a brand, this generator will be your creative companion, ensuring you stand out from the crowd with an extraordinary name that leaves a lasting impression.
But that's not all! We invite you to explore even more exciting possibilities with our specialized username generators. Head over to our Reddit Username Generator to find the ideal username for engaging in discussions and communities.
Delve into the world of short-form video content with our TikTok Username Generator, which will help you make a memorable impact in the buzzing TikTok sphere.
And for those seeking to connect and collaborate with like-minded individuals, our Threads Name Generator is the key to unlocking a unique and cohesive identity within your favorite forums and online groups.
So why wait? Let your imagination run wild, and let our diverse range of username generators be your go-to resource for all your digital ventures. Discover a world where uniqueness knows no bounds and creativity reigns supreme.
Check out our Reddit Username Generator, TikTok Username Generator, and Threads Username Generator now, and take the first step towards crafting an online identity that's truly yours!
Frequently Asked Questions
What is a unique username generator?
A unique username generator is a tool that automatically generates distinct and creative usernames for various online platforms and purposes. It takes your input (such as your name or preferred keywords) and produces a list of original usernames that stand out from common and repetitive choices.
How does the unique username generator work?
Our unique username generator utilizes advanced algorithms and databases to combine words, letters, and numbers in imaginative ways. It analyzes your input and generates a vast array of potential usernames based on patterns, trends, and unique combinations.
Why should I use a unique username generator?
Using a unique username generator offers several benefits. It saves time by instantly providing you with a diverse selection of catchy names. Moreover, it ensures that your online identity remains distinct, memorable, and easier to find amidst a sea of similar usernames.