PUBG Name Generator is quite popular and many of the 'pro' pubg players prefer to have unique, stylish & creative names/nicknames mostly by using different cool looking symbols.
That's we created this tool to help you guys with stylish pubg name generation process. 90% of the names created with this tool are compatible with pubg. Please comment below, If some name doesn't work.
How to use PUBG NAME GENERATOR / Font Generator?
Using Pubg Name Generator/PUBG name font generator is quite straight-forward.
First Enter your name in the box that says "Enter your name here".
Second Click on Generate
The tool will automatically generate a random stylish pubg name with symbols.
You can click on Copy button if you like the auto-generated name or you can simply click on Try Again to try again. A unique pubg name will be generated each time you click Try Again.
Comment below if you need help or the tool doesn't work 🙂
Rate this Tool 🙂
Upvote
Downvote
Stylish PUBG NAME IDEAS
Cool PUBG Name Ideas
ʚANGEL๛
Kajla多Gaming
DOŁMIC々ErroR
卍BØØŠ卍
『乂』VANH
TįÎįGįEįR
〆ScuLサunTeR
SANA 小さ
【Laith
؄Strawberry؂
「SタタD」
SAMURAI
KoD〆Harsh
〘EEMĒTEE〙
《amirlord》
M尺ツ尺ude
・HUSAIN
V3NOM父KS
IM。CRY
ツHąɱʑąツ
『BEN』COFFİN
IÁM¤PhEbInOP
M么HI〆B么LOCH
Zeko《M24》
『XP』๛R〇Jヅ
ĦĦLucas
TUNA"D'MANA'
《ايــو
Jツker亗Rohit
ツNàiʂhiya
GG・Tenshiɞ
FNC×ScOUtOP
btAR͜͡NY
ĐØnT۝MØVE
COVID'19米
Kassar《AMKi》
亗AūIīEūX亗
【Wild】
Teddy٭
TMš٭Monarch
下尺口乙モれ07
OP彡ShiVaM
SฬAT彡HArLeY
Gấu؄Mèo
PERO『GOLDY』
乙T丨AZRAİL
RICE¤
『ÑÕBÏTÂ』
BLR・Y3AS1N
rajシmagiciaan
WOLF只QUEEN
Babyノ猪猪ɞ
彡£FSAN£
AŁpha๛KeĐaR
EVIL丶Viper
DeVi£乄PRABH
D乛EaD丨HITMAN
CieɤCie
동EnVy유FM
【BP】JOKER
How to Change name in PUBG Mobile?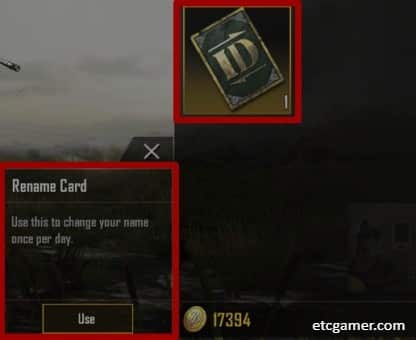 Open Pubg Mobile
Tap on "Inventory" in the bottom menu.
In the right side menu, tap on the "crate" icon at the bottom.
You should see a rename card in the crate. Tap the Rename Card & Tap USE.
Enter or Paste your new name and Tap OK.
Or Watch this video for 3 different methods
This Pubg name generator is not at all limited to PUBG Mobile only. You can use this generator to generate names for other games as well. Games like Free Fire, Call of Duty and Mobile Legends also support fancy names as well. In fact, you can go one step further and generate random stylish names for your Social Media accounts like facebook, twitter. They all accept the fancy names. Using these stylish names can make you stand out and get better attention from your friends.
It's common among gamers to have different stylish names in games. Almost all the Pubg streamers like Shroud, ChocoTaco, Just9n, Dynamo, Mortal & others use different names in games than their real life names. These gaming names or aliases also define that gamer and almost all of their fans know them with their gaming names only.
Comment below if you need help with some name.
You can comment your unique PUBG stylish name below. We will highlight your name in this post if we like it 🙂