PUBG Name Generator is a quite popular tool for creating stylish PUBG names. Many PUBG players use this tool to create unique, stylish & creative names/nicknames using different cool-looking symbols.
All the names created with this tool are 100% compatible with PUBG Mobile as we have manually tested more than 500 different symbols, and only added those that we found compatible with PUBG Mobile.
But if you find some name, that doesn't work on PUBG Mobile, Please comment below, and help us improve this tool even further.
How to use PUBG NAME GENERATOR V1?
Using Pubg Name Generator V1 is quite straight-forward, Simply:
Enter your name in the box that says "Enter your name here".
Click on Generate button
Click Copy if you like the name, else click on Try Again.
PUBG Name Generator v1
Random
Comment below if you need help or the tool doesn't work 🙂
How to use PUBG NAME GENERATOR v2?
Pubg Name Generator v2
allows you to manually enter your favorite symbols in the name. You need to:
Enter your name in the Name field.
Click on any symbol to enter in the name field.
Click on the left and right drop-down to choose prefix or suffix symbol.
Click on Generate button to see your name in different Styles 🙂
PUBG Name Generator v2
with Symbol Keyboard
11/14
Click to enter symbols
『』
〘〙
【】
《》
「」
丨
シ
ツ
ヅ
々
〩
ズ
き
丶
×
メ
乄
ヤ
〆
・
٭
。
'
¹
٪
٠١٠
ノ
乀
乁
一
乛
๛
三
亗
卍
۝
¤
气
金
帝
彡
乡
梦
؄
숬
本
人
大
炎
父
艾
义
个
卄
웃
ʘ͜ʖʘ
๏̯͡๏
Example:- M͜͡r๛INZY
Scroll to see more symbols!
Copied!
Comment below if you need help or the tool doesn't work 🙂
Stylish PUBG NAME IDEAS
Cool PUBG Name Ideas
ʚANGEL๛
Kajla多Gaming
DOŁMIC々ErroR
卍BØØŠ卍
『乂』VANH
TįÎįGįEįR
〆ScuLサunTeR
SANA 小さ
【Laith
؄Strawberry؂
「SタタD」
SAMURAI
KoD〆Harsh
〘EEMĒTEE〙
《amirlord》
M尺ツ尺ude
・HUSAIN
V3NOM父KS
IM。CRY
ツHąɱʑąツ
『BEN』COFFİN
IÁM¤PhEbInOP
M么HI〆B么LOCH
Zeko《M24》
『XP』๛R〇Jヅ
ĦĦLucas
TUNA"D'MANA'
《ايــو
Jツker亗Rohit
ツNàiʂhiya
GG・Tenshiɞ
FNC×ScOUtOP
btAR͜͡NY
ĐØnT۝MØVE
COVID'19米
Kassar《AMKi》
亗AūIīEūX亗
【Wild】
Teddy٭
TMš٭Monarch
下尺口乙モれ07
OP彡ShiVaM
SฬAT彡HArLeY
Gấu؄Mèo
PERO『GOLDY』
乙T丨AZRAİL
RICE¤
『ÑÕBÏTÂ』
BLR・Y3AS1N
rajシmagiciaan
WOLF只QUEEN
Babyノ猪猪ɞ
彡£FSAN£
AŁpha๛KeĐaR
EVIL丶Viper
DeVi£乄PRABH
D乛EaD丨HITMAN
CieɤCie
동EnVy유FM
【BP】JOKER
We have tried to include our top favorite names here, but this list is not complete by any means. For more, take a look at our complete list of best nicknames for PUBG, and for a complete list of all compatible stylish symbols for PUBG, see PUBG Symbols
How to Change the name in PUBG Mobile?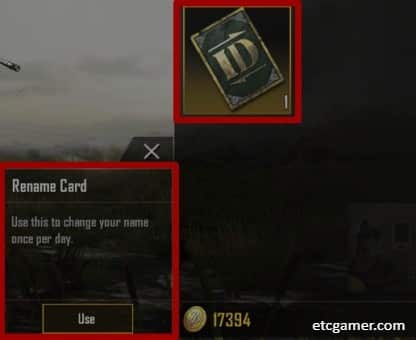 Open PUBG Mobile
Tap on "Inventory" in the bottom menu.
In the right side menu, tap on the "crate" icon at the bottom.
You should see a rename card in the crate. Tap the Rename Card & Tap USE.
Enter or Paste your new name and Tap OK.
Watch this video if you're facing any issues
Conclusion
It's common among gamers to have different stylish names in games. Almost all the PUBG streamers like Shroud, ChocoTaco, Just9n, Dynamo, Mortal & others use different names in games from their real-life names. Almost all of their fans know them with their gaming names only.
PUBG Name Generator can also be used on PUBG New State. For BGMI, checkout our latest BGMI Name Generator with Stylish Symbols
Update:
While this name generator can also be used on other games, but for better experience and compatibility, we recommend you to use their own dedicated name generators.
For Call Of Duty mobile players, we have COD Name Generator, Free Fire players use our FF Name Generator, Fortnite Players can use Fortnite Name Generator.
For all other games, use Game Name Generator, and to stand out on social media channels like Facebook, Twitter use best Stylish Name Generator on the planet.
Active on Discord? Try our new Discord Name Generator. This tool will help you generate stylish names that can be used in your discord username or discord channel name.
Comment below if the generated name doesn't work or you face issues pasting the stylish name.
You can comment your own unique PUBG stylish name below. We will highlight your name in this post if we like it 🙂