Elliott lives alone on the beach, south of Pelican Town. He is one of the 12 marriage candidates in stardew valley.
Complete List of Gifts for Elliott
Giving Elliott gifts will increase or decrease his friendship with you. He says a unique dialogue for each Loved, Liked, Neutral, Disliked & Hated Gifts.
Complete list of Gifts for Elliott is given below.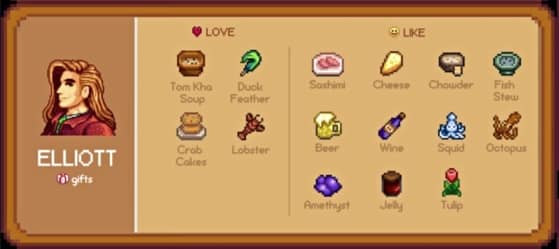 List of Gifts Elliott Loves
If he Loved your gift, then he will say:
"(Name), this is a beautiful gift! Thank you!"
or
"A birthday gift? That's very kind of you! I love it."
or
"You remembered my birthday! Thank you, this is great!"
---
Name
Source
Ingredients
Crab Cakes
Cooking
1 x Oil
1 x Egg
1 x Wheat Flour
1 x Crab
Duck Feather
Ducks
Lobster
Crab Pot
Pomegranate
Pomegranate Tree
Tom Kha Soup
Cooking
1 x Common Mushroom
1 x Shrimp
1 x Coconut
and
List of Gifts Elliott Likes
He Liked your Gift
"This is for me? Marvelous!"
---
Octopus
Squid
Sweet Pea
Tomato
Topaz
Trout Soup
Tulip
Wild Honey
Wine (Blackberry, Cranberry, Crystal Fruit)
baked fish
hash browns
Apple
Amethyst
Aquamarine
Bean Hotpot
Beer
Blackberry
Blueberry
Blueberry Tart
Blue Jazz
Cactus Fruit
Cheese
Cherry
Chocolate Cake
Cloth
Coconut
Coffee
Cookies
Corn
Cranberry
Cranberry Sauce
Crocus
Crystal Fruit
Diamond
Earth Crystal
Eggplant
Emerald
Fairy Rose
Fire Quartz
Fried Mushrooms
Frozen Tear
Grape
Green Bean
Hot Pepper
Ice Cream
Jade
Jelly (Blackberry, Blueberry, Cherry, Grape, Spice Berry)
Pink Cake
Pomegranate
Potato
Ruby
Salad
Sashimi
Snowdrop
Spaghetti
Spice Berry
Strawberry
Summer Spangle
Sunflower
Maki Roll
Maple Syrup
Mayonnaise (All Types)
Melon
Omelette
Pale Ale
Pancakes
Parsnip
Pepper Poppers
Pickled (Corn, Tomato)
List of Gifts with Neutral reaction
Neutral
"Oh, a present! Thank you!"
---
Fried Egg
Halibut
Herring
Hops
Mussel
Oyster
Perch
Rainbow Shell
Sardine
Tilapia
Shrimp
Truffle
Anchovy
Bread
Clam
Cockle
Coral
Crab
Egg (Chicken and Duck Only)
List of Gifts Elliott Dislikes
Disliked
"Hmm… I'm not a huge fan of this."
---
Hazelnut
Holly
Malachite
Milk
Opal
Orpiment
Pizza
Plush Bunny
Snow Yam
Spring Onion
Thunder Egg
Wild Horseradish
Wild Plum
Winter Root
Sea Urchin
Leek
Apricot
Calcite
Cave Carrot
Chanterelle
Clay
Coal
Common Mushroom
Copper
Daffodil
Dandelion
Driftwood
Fiber
Field Snack
Geode
Gold (Bar and Ore)
List of Gifts Elliott Hates
Hated
"This item gives me a terrible feeling. I'll have to dispose of it."
---
Poppy
Salmonberry
Sea Cucumber
Sea Urchin
Seaweed
Soggy newspaper
Stone
Strange Bun
Torch
Wood
Amaranth
Bat Wing
Broken Glasses
Budget TV
Copper Ore
Dried Starfish
Dwarvish Helm
Green Algae
Joja Cola
Nautilus Shell
Weekly Gifts
You can give up to two gifts per week to Elliott.
Birthday Gifts
Giving Elliott birthday gifts will have 8x effect on your friendship with him.
When is Elliott's birthday in Stardew Valley?
Elliott celebrates his birthday every Fall 5th.
Who is Elliott in Stardew Valley?
According to Dev Update #12
"Elliott lives alone in a cabin on the beach. He is a writer who dreams of one day writing a magnificent novel. He is a sentimental "romantic" with a tendency to go off onto flowery, poetic tangents. When he can afford it, he enjoys a strong beverage at the Stardrop Saloon. Could a humble farmer such as yourself be the inspiration Elliott is looking for? There's only one way to find out…"
Elliott Stardew Valley Quests
"Help Wanted" board

Elliott may randomly ask you for an item outside Pierre's General Store at the "Help Wanted" board.
Reward

3 x Item's Base value
150 x Friendship Points
Some FAQ
How old is Elliott in Stardew Valley?
Estimated age of Elliott in Startdew Valley game is around 28 – 35 years old.
Can you marry Elliott in Stardew Valley?
Elliott lives alone in his beach house and has no family. You can marry him as he is one of 12 men available for marriage in Stardew Valley.
Where does Elliott live in Stardew Valley?
Elliott lives in his beach house and has no family.